Rock fractures and faults are among the causes of earth radiation. In contrast to the grid networks, the electromagnetic radiation emitted by rock fractures and faults is real earth radiation coming from the earth.
What are rock fractures?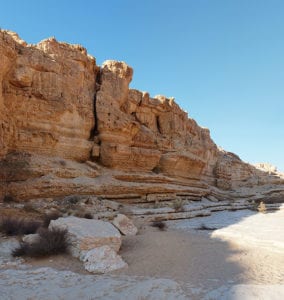 Different types of rocks have different energetic properties. Sometimes they are even charged with different poles. Our old "zinc-carbon" batteries are a good example. So, if the rock layers have shifted at some point due to earthquakes, volcanic eruptions or landslides, and layers of earth or rock with different polarity suddenly touch each other, electrical interference fields can arise – just as with water veins. The larger the contact area, the greater the radiation.
In addition, water flows on the bottom of many fractures, which means that other factors must be taken into account for the strength of the stress. In the case of very deep fractures, there is also a load from rising magma radiation, which is normally strongly mitigated by the dense rock mantle. Some rock fractures are several hundred thousand years old and older! In today's times, rock fractures in our country are mainly caused by collapsing mine tunnels, or in rare cases by slight earth tremors in former volcanic regions like e.g. the Eifel. Mostly they are between 20cm and 1m wide and in some cases many kilometers long.
What are fault lines?
Similar to the rock fractures it behaves with the so-called faults. These are rock swirls, which were created by glacial movements or volcanic eruptions ages ago and "mix" different rock layers with each other, similar to the structure of a snail shell, in a vortex shape. The resulting radiation exposure can be very high, depending on the charge of the colliding rock layers. They can be quite small in size but can also reach an extension of several hundred square meters. Since our earth has changed geographically strongly during the last 5 million years, such faults are today no longer exclusively in mountains, but can be found quasi at every place.
Fault lines can be very unpleasant and strongly energy-drawing. It is not uncommon for me to measure bovis values of less than 2,500 bovis over faults. Likewise, the ionization of the room air changes over faults in a direction that is unhealthy for us.
" What does the Bovis value mean?
"Water veins – left-turning or right-turning
" House and apartment examination for earth rays and electrosmog